Open: $1,181.40 Close: $1,182.60 | High: $1,205.70 Low: $1,171.50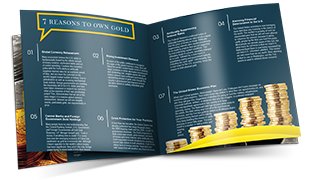 Learn everything you should know about investing in precious metals.
Request the Free Guide
Gold opened the week with 2 percent losses after last Friday's gains. The dollar was strong, and stocks fell as Greek lawmakers did not succeed in electing a new president. The next election will be January 25. Concern remains about Greece's weak economy in the euro zone, which pushes the euro down for other regions.
By Tuesday, gold had recovered its initial losses due to a weaker dollar and tensions in Russia. Russia's foreign ministry released a statement that caused some alarm—because of recent increases in U.S. sanctions, Russia may be less cooperative on international issues, the administration said. The dollar slipped in contrast to the yen, as traders turned to Japanese currency for end-of-year security. Gold ended above the key $1,200 mark.
Gold lost its gains by Wednesday, dropping 1.5% on a stronger dollar and lower crude oil.
"It appears that gold is following oil for now," remarked senior market strategist Eli Tesfaye of RJO Futures.
Trading volumes were thin all week due to the Christmas and New Year holidays. The markets were closed for the New Year holiday. Gold ended the year below the $1,200 mark at $1,182.90. Friday saw gold take a sharp drop in the middle of the day due to a strong dollar, and then make a quick recovery as bargain hunters swooped in to take advantage of the opportunity. Still, the end of Friday marked the third week in a row of losses for the yellow metal. What will 2015 have in store for gold?