Open: $1,203.50 | Close: $1,212.80 | High: $1,219.50 | Low: $1,193.50
Gold stayed fairly steady on Monday, Wednesday and Thursday this week, with a sharp drop and recovery on Tuesday, ending the week with an increase on Friday. The market opened with an agreement between the EU and Greece on the debt deal and closed Asian markets for the Lunar New Year holiday. Last week's market saw the price of gold fluctuate with the continued problems between the EU and Greece over reaching a mutually agreeable debt deal, while the American market enjoyed the President's Day holiday and the beginning of the Chinese New Year holiday.
The market saw several tests of the $1,200 price support Monday morning, with the prices leveling out during the afternoon. As EU finance ministers came closer to reaching an agreement on Greek debt, safe-haven demand for gold diminished. Gold had lower losses than other metals at 0.2%, especially compared to silver's 1% slide and platinum's 0.7% loss for the day.
Tuesday saw several more tests of the $1,200 price support as Switzerland's watchdog WEKO announced they were investigating potential price fixing in the market, the same day that the U.S. Department of Justice and Commodities Futures Trading Commission announced their own investigation of 10 U.S. banks for precious metals price fixing.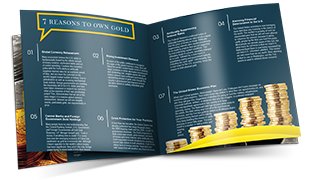 Learn everything you should know about investing in precious metals.
Request the Free Guide
Gold prices leveled off significantly on Wednesday as the Asian markets came back into play following the Lunar New Year holiday. Apple's announcement on Wednesday to purchase significant amounts of the world's gold supply to keep up with demand for its new Apple Watch, estimated at 1 million sales of the 18-karat watches per month, helped push prices further, up $4.60 from close on Monday.
Thursday saw gold continue to rise in response to the European Central Bank's quantitative-easing measures, settling at $1,210.10 on COMEX as the most active contract's highest close since February 18. The U.S. GDP revision, showing a fourth-quarter drop, also helped raise gold's price as a soft dollar began driving investors back to safe-haven investments.
Friday saw a significant rebound with early energy, ending the week with its highest closing of $1,213.10, a rise of 0.8% or $9.60 for the week. China announced a planned Yuan-denominated gold fix, while there was a muted gold demand from India as an anticipated duty tax cut is expected to help lower local prices, causing investors to hold off on buying gold for the moment.