Open: $1,223.00 | Close: $1,207.00 | High: $1,223.00 | Low: $1,203.90
Gold dropped in value this week, falling sharply at first and then leveling out by the second half of the week as the bear market for currencies, which had been driving the prices of gold and other precious metals upwards last week, began to soften the slide. Last week's market saw the price of gold begin to recover following the Indian economy's slowdown.
The market was fairly quiet Monday with the President's Day holiday closing the American markets. Continued trading online saw a slight rise as talks between EU financial ministers and Greece to resolve Greece's bailout program ended early, with Greece stating that the EU's stipulations were absurd and unacceptable. The most active contracts were for April delivery, seeing a raise of $6.40 or 0.5%, settling at $1,227.10
Tuesday saw decreased demand from the Asian markets with the Chinese New Year approaching. Though the effect was not as sharp as in previous years, the pull back still contributed to nearly a full percentage point slide. The Indian market began to pick back up following last week's slowdowns.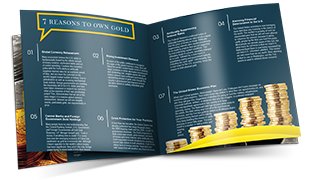 Learn everything you should know about investing in precious metals.
Request the Free Guide
Wednesday's announcement of the continued bailout of Greek's banks saw the Euro gain on the dollar, resulting in gold prices hitting their low for the last six weeks under the $1,200 support point, seeing only very small gains over the course of the day.
Thursday saw gold recover based on the released minutes of the Fed meeting predicting slow changes in the current interest rate to help strengthen the dollar against Greece and the EU's bailout. "Strong growth data in the US strengthens the case for rate hikes beginning in mid-year, though the Fed will have to "look through" inflation rates which are – temporarily – well below target," said Credit Suisse. The Chinese New Year has kept the Asian markets quiet, adding to market volatility over the course of the week.
Friday remained steady with continuing talks between Greece and the EU, though there was some testing of the $1,200 point as Germany rejected Greece's application to extend their loan and renegotiate bailout terms, raising the likelihood of Greece defaulting on the bailout or leaving the EU. The anticipated release of U.S. manufacturing data later in the day also kept the market on an even keel, with April contracts ending the session at 0.62%higher at $1,207.60, though still down from Thursday's rally of $1,222.90.