Open: $1,205.00 Close: $1,221.90 | High: $1,236.40 Low: $1,201.10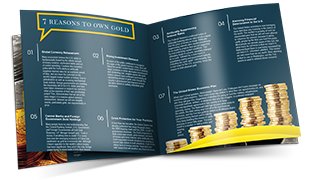 Learn everything you should know about investing in precious metals.
Request the Free Guide
Following the aftermath of the previous Friday's stronger-than-expected U.S. employment report, gold opened the week trading in a surprisingly steady range. On Monday, the dollar opened with a four-year high, while crude oil was trading at a five-year low. Gold prices were not strong, but they were resilient.
Meanwhile, in global economic news, China's imports decreased, Japan's economy entered a recession, and the European Central Bank forecast another possible economic recession for the European Union in the coming months. These combined factors seemed to "spook" the marketplace, and resulted in major gains for gold on Tuesday. Traders flocked to the gold market to scoop up shares of the metal as a hedge fund against the downshifting of the global economy.
In further economic news, the World Bank predicted on Tuesday that the Russian government would contract by almost 1% in 2015. The Russian ruble has lost 40% of its value this year. Chinese officials also stated they would be making more effort to tighten regulations in their domestic bond market. In the European Union, anxieties arose around the idea that Greece might pull out of the union if liberal leaders are elected. U.S. Federal Reserve officials also made statements that indicated interest rates may stay low for some time to come. Tuesday hit a six-week high, indicating gold might have already hit near-term bottoms.
Wednesday maintained Tuesday's gains, though the global market shifted back into normal gear. Thursday was also quieter, with some pullback on gold trading after the dollar got a boost. With the European Union facing such a difficult economy and their own quantitative easing issues, the U.S. seems to be considering whether now is the right time to raise interest rates. Chinese officials announced on Thursday they would be continuing with market-based reforms.
Friday saw no major developments. Gold watchers are looking ahead to the FOMC meeting next week.