Collectors of gold know that this precious metal has unique properties that can be identified through careful examination. You can learn to identify genuine gold and avoid being misled through devious practices. Protect your assets and be certain that the gold you buy matches the published claim.

How to Test Gold Jewelry
Jewelers make an impression in each gold piece of jewelry designed and crafted from genuine molten gold bullion. On necklaces and bracelets, this stamp is on, or near, the clasp. Rings have a stamp somewhere on the inside surface. A jeweler's loupe is sometimes required to see the tiny stamp placed on fine gold jewelry. The jewelry stamp will include the karat, also called the purity, of the piece, such as 14K or 24K. Close to this stamp is the manufacturer's stamp, which further clarifies genuine gold jewelry.
You might have an older piece of jewelry that does not have a jewelry mark, which could make you wonder if the piece is counterfeit. You will want to conduct additional tests on the piece.
The Acid Test
All precious metals can be tested through the use of an acid test that will only harm fake materials. Genuine gold will stand up to your attempt to conduct a nitric acid test at home. Make a tiny mark on the piece of gold to penetrate the surface. Drop a small amount of liquid nitric acid on that scratch and wait for a chemical reaction. Fake gold will immediately turn green where the acid is. Gold-over-sterling silver will become milky in appearance. Gold will not react to the nitric acid. The desired result is a clear drop of liquid that does not change color.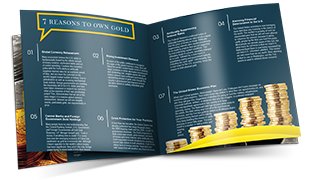 Learn How to Avoid Costly Rookie Mistakes & Invest in Gold Like a Pro!
Get Free Gold Investor Guide
The Magnet Test
Genuine gold will not attract a magnet. The magnetic test is the most convenient and portable test for genuine gold, since the magnet can be carried around in your pocket. Imitation gold and other alloys will attract the magnet. Coins can appear to be gold, when in fact the surface is simply gold in appearance. The magnet would reveal the underlying metal.
Using the Float Test
A cup of water is all you need for another important test. Any size piece of genuine gold will immediately sink to the bottom of any liquid. Imitation gold floats or hovers above the bottom of the container. In addition, real gold will not rust or discolor when wet.
Skin Test
Skin discoloration from wearing fake gold jewelry is not a myth. For this test, simply hold the gold in your hand for a few minutes. Perspiration on the skin creates a chemical reaction with the gold. Skin will discolor (a black or green color) if the gold isn't real. Genuine gold will not react with the skin. Jewelers can determine the contents of any gold piece of jewelry. Certified consultants will conduct further tests that reveal the genuine gold weight and purity.
How to Get a 100% Accurate Gold Test
These DIY gold authentication tests are a good place to start if you're curious about an item's authenticity. However, they're not reliable or accurate when it comes to buying, selling, or investing in gold.
When you want a professional-grade reading, it's best to take your gold coins and bars into a highly qualified and experienced precious metals consultant such as Scottsdale Bullion & Coin. This is the only way to get an accurate gold test.
At Scottsdale Bullion & Coin, we utilize industry-leading gold testing equipment to accurately determine the authenticity of gold coins and bars, as well as other precious metals. Watch the video below to learn more about the gold testing machines our experts use.