The biggest gold news for the week is that investors are anticipating a rate hike from the Federal Reserve next month, and therefore liquidating much of their gold stock. The gold price hovered around a six-year low this week, opening Monday at $1,065, which is 10% lower than when the Fed announced with increased certainty last month that a rate hike was on the horizon.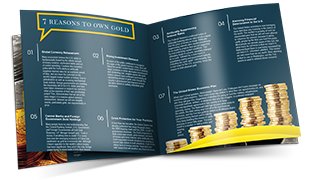 Learn everything you should know about investing in precious metals.
Request the Free Guide
By Tuesday, the gold price had been bolstered slightly by safe haven demand related to Turkey-Russia tension after Turkey shot down a Russian warplane at the Syrian border—the first attack on Russian aircraft from a NATO country since the 1950s. Especially after the Nov. 13 attacks on Paris, global tensions are high. Through Wednesday, gold was propped up around 1%.
Despite the uncertainty of global politics, the price of gold didn't maintain its temporary increase and slipped back down through the end of the week. A stronger-than-expected U.S. economic report brought focus back to the eventual Fed interest rate hike, and gold hovered around a five- to six-year low, dropping all the way down to $1,055 by Friday. This is near the lowest it's been since February 2010, when the price of gold clocked in at $1,045.
Relatedly, the dollar was at a seven-month high against the euro toward the end of the week, further pushing gold down. India has also reported the lowest gold demand in eight years due to droughts that have ravaged the economy. India is normally the world's second-largest buyer of gold, after China.