Gold prices opened the week on Monday at $1,313.40 and closed at the same price point. The historical price of gold chart reported a Tuesday open of $1,311.60. The yellow metal surged to a high of $1,316 before closing at $1,310.50. By Wednesday morning, aftermarket trading had shaved another 30 cents off the price of gold. A high of $1,315.20 was reached, but continued trading took gold prices to $1,312.90 by the close. On Thursday, the price of gold opened at $1,313.60, jumped to $1,321.80 in daily trading, and closed at $1,319.40. Gold opened at $1,319.60 on Friday, reached the high for the month of $1,325.96, and closed at $1,317.70.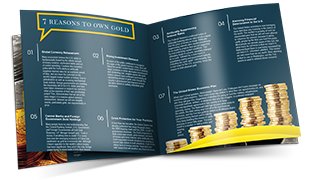 Learn everything you should know about investing in precious metals.
Request the Free Guide
Monday brought higher gold prices as the dollar's recent strong performance softened. On Tuesday, oil prices dropped from record highs as investors awaited President Trump's decision on Iranian sanctions. Gold briefly spiked over market concerns that Trump would pull the U.S. out of an important international nuclear agreement with Iran. The president ended U.S. participation in the agreement that afternoon and shared plans to immediately reimpose economic sanctions against Tehran.[1][2]
Amid a hot geopolitical climate, Thomson Reuters GFMS forecast on Wednesday that gold will see its strongest prices in five years in 2018, largely due to safe haven investing.[3] It was a prescient prediction: markets awoke on Thursday to news of conflict between Iran and Israel. On Wednesday night, Iranian forces fired 20 rockets at Golan Heights, where Israel Defense Forces were positioned. Israeli forces quickly retaliated, launching the most extensive strike on Syria seen in decades. Several Iranian military sites were targeted.[4]
By Friday, a weak dollar, geopolitical risk in the Middle East, and lackluster Treasury yields boosted gold prices. The price of gold hit a high not seen since April 25 of $1,325.96, approaching a 100-day moving average of $1,326. With tension escalating in the Middle East, now is the time to protect your assets with gold before prices skyrocket!