If May brought with it an unpleasant down slide for gold, June thus far has been a promising stabilization. Gold may not have had a stellar performance last week, but it stayed at a steady level without dipping down too far in the undesired direction. The push-and-pull of both the Greek exit of the EU and the Federal Reserve's reluctance to raise interest rates has kept the dollar stable without pushing high or low in either direction.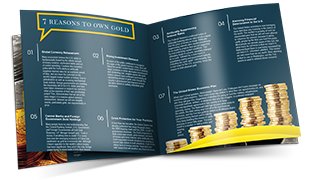 Learn everything you should know about investing in precious metals.
Request the Free Guide
Gold entered the week without much expectation, having hit its lowest level in three months at the close of trading the Friday prior. The influx of strong U.S. payroll data had kept a lid on gold for the prior week. Monday saw gold rise above $1,180 for a brief period of time before coming back down to close out the day at $1,171. Forex gold analyst Christopher Lewis claims this puts gold in an unfortunate no-man's-land, where everyone looks to sell at $1,180, while a $1,160 marker leaves everyone wanting to buy.
Tuesday gave gold a small and mostly quiet bump without much movement on the market. While gold futures rose to over $1,250 for delivery in August, the price of gold per ounce rose to just $1,185, while fewer than 100,000 contracts traded hands. More attention was focused on the price of oil, which rose on the futures market to over $105 per barrel.
Wednesday proved to be another day with little movement. Gold lost nearly five dollars per ounce overall to close out the trading day at $1,181. While silver gained value, it did so to the tune of just one cent more per ounce.  Both metals were kept down by a U.S. dollar index that rose by .35 points.
Null growth proved to be the words of the day for Thursday. Gold gained value, but by less than one dollar overall. The performance for the metal can also be measured by the ARCA gold stocks index, which lost 1.59%, indicating the difficulty of some gold mining companies to maintain profitability as the commodity treads water.
Friday saw gold close out the week to near where it had started at $1,179 per ounce, a total change of just .7% upwards.  A Kitco survey had both investors and market professionals state a bearish position on gold, with a bitter taste in most investor's mouths who had hoped for recovery.