Most of February has experienced a gold rally, and this last week continued the general trend. Monday opened with the price of gold lower by 2 percent as the dollar and equities strengthened, putting some more risk appetite back into the market and leading some traders to take their gains. Still, the gold price stayed above the key $1,200 mark this whole week, despite some minor drops.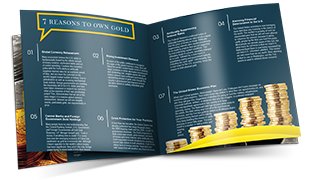 Learn everything you should know about investing in precious metals.
Request the Free Guide
Tuesday reversed the rising equities trend, with a drop in global equities and therefore a small percentage gain for gold. Europe and the U.S. saw some negative earnings news, and oil prices stayed low. Gold has gained around 15% since the beginning of the year.
Wednesday's gold prices rose on continued economic worries, as well as the announcement that Venezuela will be shipping gold to Europe to pay off debts. The indebted South American country shipped $1.3 billion worth of gold bars to Switzerland in January because of a lack of cash in reserves and looming debt payments. This is an unusual event, and a sign of a major debt crisis—bringing investors back to the gold marketplace. Gold rose around 2 percent on Wednesday, lifted also by falling oil prices.
Thursday's stock market was volatile, stoking safe haven demand in gold. Oil prices were unsteady and Chinese shares sparked more anxiety about global market troubles. Gold prices hovered in the same trading range through the end of the week, rising only modestly but marking the 5th weekly gain out of the last six.