The post-holiday week opened strong for gold. Prices gained nearly $10 per ounce since the close of the markets on Black Friday, when the price of gold hovered at six-year lows. Crude oil and mining stocks were enjoying a lift after the holiday weekend; U.S. oil rallied back to around $42 per barrel as world leaders began meeting during the United Nations' climate change summit.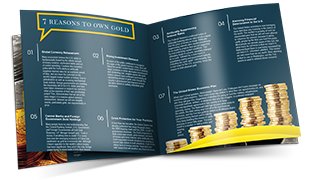 Learn everything you should know about investing in precious metals.
Request the Free Guide
Gold prices retreated midweek, dropping to $1,066 per ounce Tuesday—a new six-year low. The dollar and U.S. Treasury bond prices rose, pushing the price of gold down. Investors are still anticipating a U.S. interest rate hike in December. In a speech Wednesday, Federal Reserve Chairwoman indicated that a rate hike is still on the table for the last FOMC meeting of the year. Most analysts believe it is very likely that the Fed's loose monetary policy will be coming to an end before the end of the year.
Gold prices experienced a 1% rebound Thursday after the European Central Bank announced new stimulus measures in the form of cutting its minimum deposit rate from -0.30% to -0.20%. The intention behind the move is to fight low inflation; the bank will also start buying municipal debt. The cut was smaller than some investors expected, but the news still caused the euro to rise, and gold to follow suit.
Friday's gold prices rallied from around $1,060 to nearly $1,085 after a U.S. jobs report relayed already-expected data. Though the report was positive for economic growth, with 211,000 jobs added, the news was not unexpected. Usually, the price of gold would react negatively to positive economic news, but in this case the dollar did not react to this data, causing some investors to believe that economic growth, and relatedly the upcoming Federal Reserve rate hike, and therefore these changes are already priced into the market. Theoretically, gold would essentially then be somewhat freed from reacting to these fluctuations.