The gold price chart reported a Monday opening of $1,312.42 and close of $1,307.98. Support in afterhours trading brought the Tuesday opening price in at $1,310.24, and light buying absorbed some early selling and allowed the day's closing trade to match at $1,311.10. Although aftermarket trades produced a weekly high of $1,315.30, the Wednesday opening trade was registered at $1,311.84. The yellow metal was up another two dollars by midday, but low-volume selling shaved off $10 dollars and registered a closing price of $1,301.10. Aftermarket selling took off another $10 and the price of gold for the Thursday opening settled at $1,291.97. Light trading for the day resulted in gold prices closing at $1,291.91. Friday's opening price of $1,295.53 benefited from after-closing gold buying, and that momentum helped the price recover to a close for the day and week at $1,296.61.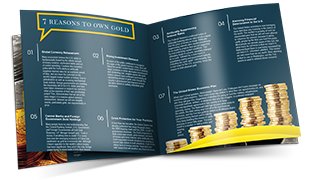 Learn everything you should know about investing in precious metals.
Request the Free Guide
The prime mover for market activity this week was found in reaction to the September Federal Open Market Committee minutes. While not exactly aggressive in its stance, the minutes reflect a growing expectation among the FOMC to reduce assets held on the Fed balance sheet and target a December rate hike. The FOMC had previously sent signals that it wanted two such increases before the end of the year, but economic indicators have not supported that action. 1 –
This news was received by the market with a little less reaction than might have been expected a decade ago. With the possibility of an increase in interest rates factored into current prices, analysts still see room for a gold rally this year, with predictions of prices reaching $1,400 or more.
September has provided a series of bullish indicators for short-term prices, including hurricanes and the threat of war with North Korea. Currently, there is little of significance to the gold markets expected in the coming week from the geopolitical or economic fronts. This means the longer-term investors will be looking for opportunities to bargain hunt during the relatively light volatility the market is experiencing lately.
Wondering where gold prices are headed? Expert gold price forecasts are available in our new free report, Gold's Going Down? Click here to get the report.