The price of gold was little changed Monday, even as anticipation in the marketplace increased and analysts began expecting a Federal Reserve rate hike this year, possibly as early as next week at the Fed's next meeting. However, Federal Reserve Governor Lael Brainard hinted at dovish statements, which calmed the turbulence. It is still anyone's guess when the next interest rate hikes could occur.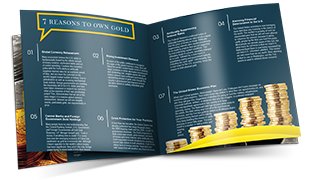 Learn everything you should know about investing in precious metals.
Request the Free Guide
Both Indian and Turkish governments are now instituting policies to reduce future gold imports by "monetizing" the gold economy into the banking system. India's gold monetization first started last year, but has failed to take off. The idea is for citizens to invest their money in gold to be held physically by the banks. Turkey recently mirrored this idea by increasing the amounts of gold citizens are able to hold in banks.
Oil prices fell this week, dropping below $45 per barrel mid-week, as continued discussions about supply and demand occupied leaders of Middle Eastern oil-producing nations. U.S. bond rate yields pulled back.
Gold prices were up Wednesday against a slipping dollar. Expectations of a rate hike next week receded and put pressure on the greenback. By Thursday, the yellow metal fell to a two-week low as traders sold their positions against conflicting expectations.
Gold prices rebounded quickly Friday after a slew of economic data showed retail sales having dropped in August, manufacturing output slowed, and a tightening labor market. Just as quickly, prices dropped again showed faster-than-expected growth in U.S. consumer prices. A Reuters poll showed a 70% chance of a rate hike in December, while earlier in the week analysts put only a 15% chance on a rate hike next week.