The price of gold took a plunge this week, opening around $1,310 per ounce before losing much of that. Monday opened with gold posting losses against a rising dollar. Manufacturing data came back stronger than expected.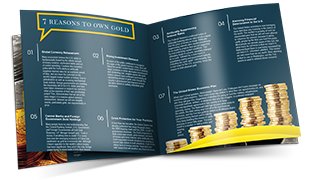 Learn everything you should know about investing in precious metals.
Request the Free Guide
Gold slid 3.3% on Tuesday to touch below the $1,300 per ounce mark, near the low point immediately following the Brexit vote on June 23. The strength of the dollar and positive economic reports, combined with a risk-off attitude after some stabilization in the Deutsche Bank scenario, culminated to land gold around $1,270 per ounce Tuesday.
By Wednesday, a slew of economic data had been released that stoked the fire for raising interest rates soon. The conversation for raising rates took on a slightly stronger fervor, with a 60% chance the Fed would raise rates in December, according to officials.
Thursday's gold prices reached a four-month low. Data was released that showed the number of Americans applying for unemployment fell to a four-decade low, along with strong employment reports. The news seems to be pointing to a more robust economy, which could signal the time for a rate hike. Gold selling was prominent in the market, though some analysts predict an uptick in the near future as bargain hunters enter.
A jobs report released Friday showed 156,000 new jobs added, less than the 175,000 expected. The jobless rate was reported to have risen to 5%. The gold market took a brief turn upwards before closing the week around $1,260 per ounce.