Gold prices added $10 per ounce since last week, opening around $1,217 per ounce after last week's losses, still testing the $1,200 benchmark. Government bonds sustained their first losses since the election. World stock markets rose, as the dollar eased back from its rally. Oil prices reached three-week highs.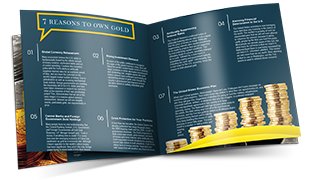 Learn everything you should know about investing in precious metals.
Request the Free Guide
Asian buyers have been supporting gold prices; it was revealed Russia added 1.3 million ounces of gold to government reserves in October. India saw a surge of demand after news the government could ban imports of gold. China is still one of the world's largest consumers of gold.
The Consumer Price Index (CPI) gained 0.4 percent in October, and the housing market showed strength. Continued improving economic data points to a Federal Reserve rate hike in December. Gold prices have dropped around $50 per ounce, or 4%, since this time last month.
Tuesday's gold prices were buoyed to $1,221 per ounce by short covering and bargain hunting, but slumped beneath the $1,200 floor on Wednesday as more good economic news rolled in, including a report showing business spending on the upswing. The dollar hit 13-year highs as gold dropped lower than it has in the past nine months to $1,180 per ounce. U.S. equities rose, crude oil fell slightly. Sales of new homes fell, jobless claims rose, and government bond prices fell, showing a mixed picture.
Markets are waiting to see who the Trump administration will appoint as the new Treasury Secretary, as well as the U.S. Trade Representative and Commerce Secretary. On Thursday, the durable goods reports showed the largest gain in a year, bond yields rose, and the dollar strengthened, leading gold to the week's low of $1,175 per ounce.
American trading was quiet over the Thanksgiving holiday weekend, but gold prices are expected to continue its downward momentum, possibly to $1,100 per ounce, before rebounding.