The news of the week centered around a stronger dollar, which succeeded in pushing gold prices down. The price of gold opened the week around a five-month low near $1,225 per ounce, pressured by a strong dollar and the 90% chance that the Federal Reserve will raise interest rates in December. The dollar hit a ten-month high after what is being called a "Trump rally" after the results of the presidential election, and investor appetite focused on riskier assets.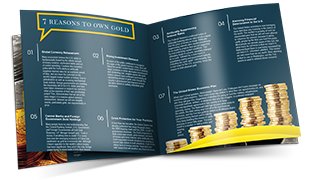 Learn everything you should know about investing in precious metals.
Request the Free Guide
Tuesday's gold prices swung up and down, continuing to be influenced by a rising stock market. News from India this week revealed the possibility of an import ban on gold into the country. India's policies this year have already reduced gold imports by 59%, and as India is one of the leading consumers of gold in the world, an import ban could possibly produce a spike in demand.
By Thursday, the gold price steadied after the dollar retreated from 14-year highs. U.S. manufacturing data showed growth, and the Fed is planning to raise rates unless drastic news shifts their plan. Gold demand in Asia increased Thursday, despite anticipation of the Fed rate hike. Gold moved lower to reach a 5.5 month low.
Gold prices have fallen around 5% since election day. Some analysts are predicting further lows from gold as a result of the presidential election, but long-term fundamentals for precious metals are still bullish.