This week was tumultuous for gold, and the country, as the U.S. presidential election results came in. Gold was down to $1,280 per ounce Monday after the FBI found no new evidence to press charges against presidential nominee Hillary Clinton for her use of a private email server.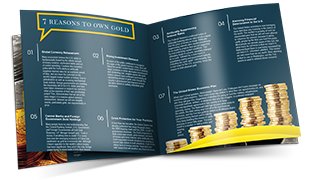 Learn everything you should know about investing in precious metals.
Request the Free Guide
The price of gold turned lower Tuesday as election results rolled in. Oil prices were higher and the market held a risk appetite. World stock markets and government bonds were flat as the country held its breath.
After the Trump victory was clear, markets responded surprisingly. In his acceptance speech the next morning, President Elect Trump was less harsh and more conciliatory, calming the markets. The dollar rose and gold fell after a brief high to $1,337 per ounce. World stock markets rallied, pushing gold lower. Analysts are pricing in the expectation that Trump will push to raise interest rates.
By Friday, the gold price was at a five-month low as the Trump victory proved to stoke risk-on attitudes, dampening movement for safe haven assets. Gold prices closed slightly above $1,220 per ounce.