Gold prices started the week strong on Monday with an opening of $1,259.45 and a close of $1,263.36 an ounce. The price of gold on Tuesday morning was $1,262.23, and it reached $1,251.06 by the end of the day. Wednesday's opening was up $1.52 at $1,252.68, and strong interest took the quote to $1,258.75 by midafternoon—the high for the day. Active afterhours trading took the Thursday opening to $1,256.63, and the trend continued throughout the day to produce a close of $1,255.42. Heavy afterhours gold buying created an $11 jump to a Friday opening of $1,266.79. Strong interest in the yellow metal continued, generating a weekly high of $1,269.38 by early afternoon. The week closed with a solid gain at $1,266.76 an ounce.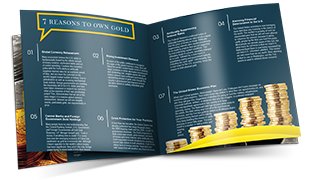 Learn everything you should know about investing in precious metals.
Request the Free Guide
The historical price of gold chart indicates that last week was the second consecutive week that gold prices were up. Some of the trading was attributed to the continued softening in the price of the U.S. Dollar Index, even while the euro, yen, and yuan showed some strength against the dollar. 1 This is amid expectations among many market analysts of a stock market correction.
Oil prices have proven to be a market wild card. The failure for that commodity to rebound even with reduced production has created some safe haven investing in gold.
On the political front, the markets are evaluating the success of President Donald Trump's trip abroad for the G-7 summit. Many market participants are concerned over his Twitter comments about Germany's trade policy and NATO contributions.
This week will be short with no trading on Monday, U.S. Memorial Day. Coming economic news includes the U.S. ADP Employment Change report for May on Thursday, and May unemployment and non-farm payroll data expected on Friday.