Gold saw a Monday opening of $1,233.20, which was followed by light trading in a narrow range. The day's close two dollars down at $1,231.47 proved to be the low for the week. Tuesday opened up three dollars an ounce at $1,234.33, and marched straight to another nice increase, marking $1,243.50 when the closing bell rang. This strong interest produced momentum that carried into after-close trading, and it resulted in a Wednesday opening spot price of $1,257.33. Light trading absorbed some profit taking to push the price even higher to a $1,261.65 close on the day. The spot gold price chart reported that the yellow metal opened at $1,256.92 an ounce on Thursday. That activity shaved another nine dollars off the price of gold before closing at $1,247.30. Most of that was recovered by the Friday opening to produce a $1,252.65 quote and more buying that carried gold to a close of $1,255.78, marking a solid up week.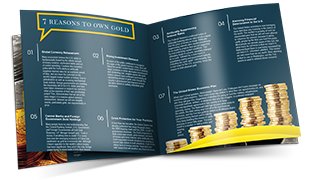 Learn everything you should know about investing in precious metals.
Request the Free Guide
The ongoing reports of turmoil in the U.S. political scene, including the firing of FBI Director Comey and his pending appearance before Congress, is providing some support for safe haven assets. This is despite the relief many felt after the French elections and a seemingly calmer global scene.
The U.S. dollar is showing a weakness that has surprised some, and recently marked a six-month low in the index. The uncertainties about the impact of potential legislation from the current administration have blunted near-term optimism concerning lower taxes or trade policy changes.
However, the taste for risk assets continues to be blunted by concerns over North Korea, Chinese banks, and other geopolitical and economic issues. The OPEC meeting scheduled for this week is not expected to produce any major surprises, but the continued cuts in production should show more firming of oil prices.
While the minutes of the May FOMC meeting will be reviewed closely, the market seems to have priced in any near-term concerns over immediate rate hikes. 1