Trading in gold was heavily influenced last week by U.S. political and economic activity. Despite a Monday opening price of $1,257.40 and an early peak for the week of $1,263.10, gold prices adjusted slightly back to $1,257.20 on Tuesday and $1,249.81 on Wednesday. The gold price chart reported that the yellow metal was selling for $1,224 on Friday morning, but buying sent the price of gold up to $1,234.65 before closing.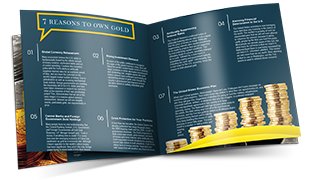 Learn everything you should know about investing in precious metals.
Request the Free Guide
Last week's trading was an interruption of weeks of positive buying and support of a price of gold above $1,250. Factors that contributed to the pullback include economic optimism spurred by the president's speech and signs of a stronger dollar. However, market reaction to both will soon be tempered by ongoing discussion of reflation and inflation.
Additionally, the week started with a relatively low expectation of a March FOMC interest rate increase recommendation. However, Fed Chairwoman Janet Yellen signaled on Friday that the indicators for the U.S. economy were strong enough to consider an increase later this month.
Adding to upward pressure on precious metal prices, however, will be continued concerns about the stability of the EU and its central bank. 1 With Deutsche Bank announcing its plans for restructuring, analysts will weigh in on how this adds or detracts from the many threats facing EU governments.