The gold price chart reported a Monday opening of $1,243.80, which light trading took to $1,244.72 by the close. Steady aftermarket buying produced a hefty rise to the Tuesday opening bid of $1,250.47 before light selling ended in a closing price of $1,247.19. The price of gold hit the week's high above the psychologically important $1,250 in aftermarket trading before opening on Wednesday just above that mark at $1,250.05 and closing at $1,250.62. Thursday opened at $1,242.68, and buying brought the quote for the yellow metal to $1,246.68 at the day's close. That support did not hold in the trading before Friday's open at $1,242.58, and the continued pressure took the bids to a close for the day and week at $1,241.31.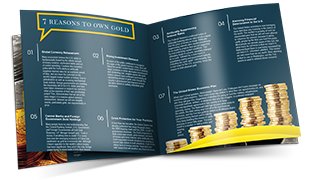 Learn everything you should know about investing in precious metals.
Request the Free Guide
Reports in the middle of the week of a weaker dollar and instability in the equities markets supported gold buying. 1 However, the actions of central banks continue to impact market realities. The recent Fed interest rate increase and the indications by other central banks of an end to the monetary policy that created an environment of cheap credit could put pressure on the price of gold and other precious metals. 2
Nonetheless, the ongoing concerns have kept traders from committing for several weeks of market activity, and the volatility reflects a lack of strong belief in either a bullish or bearish environment. Some of this muddiness may be cleared up with the pending U.S. employment data on Friday and the release of the latest FOMC minutes earlier in the week.
At the same time, the looming G20 Summit may provide even more insights into global economic and political issues, and the markets will be watching for any major news.