Last Friday, May 27, Janet Yellen reinforced a hawkish stance on monetary policy, indicating a rate hike in June. Monday's gold market opened the week substantially lower, right at the $1,205 per ounce level, hitting a 15-week low. However, at the same time Citi Research, a division of Citi Bank, increased its gold forecast to an average of $1,280 this quarter, $1,300 during July and September, and $1,250 for the last quarter. 1
The price of gold landed slightly higher on Tuesday to close out the month of May around $1,215 per ounce. May showed a 6% decline in gold prices, the first monthly loss of the year. (May opened with gold around $1,300 per ounce.) Still, the first half of the year has shown major gains for the yellow metal after 2015's net losses.
Gold rose in Asia on Wednesday after a slew of data from China showed poorer than expected growth. Selling pressure was strong for the yellow metal ahead of the Fed's next meeting, while the dollar remained fairly flat. U.S. manufacturing data showed improvement. Meanwhile, the OECD issued a warning to world governments to implement stimulus measures to prevent greater economic failure. Wednesday overall exhibited choppy trading.
On Thursday, the European Central Bank and OPEC ended meetings uneventfully, with no stimulus measures enacted and no production cap on oil, and gold maintained in a narrow range, snapping a losing streak.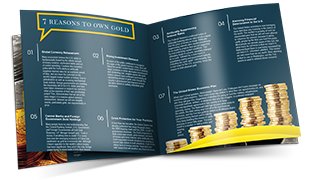 Learn everything you should know about investing in precious metals.
Request the Free Guide
Gold prices jumped 2% on Friday after new economic data pointed to the weakest month of job growth since 2010. The report showed only 38,000 new jobs added in May, 16% less than expected from the projected 126,000. The New York stock market and European equities dropped lower. Gold closed the week around $1,240 per ounce.
Additional Sources
1 – http://news.goldseek.com/GoldSeek/1464613212.php