Gold started the week's trading at $1,248.02, but selling resulted in a close of $1,243.97. Aftermarket buying saw the price move as much as four dollars higher; however, the opening trade on Tuesday was made at $1,242.41. Buyers exceeded sellers, bringing the closing gold price to $1,244.87. Wednesday opened at $1,243.18 and steady interest drove the price of gold to $1,246.92 at the close. The momentum continued to break the $1,250 mark in after-hour activity. This gave the market a Thursday open above that important psychological threshold at $1,251.53 and a close of $1,252.33. Friday's open showed even more strength at $1,256.50, and the day closed with gold prices up for the week at $1,256.82.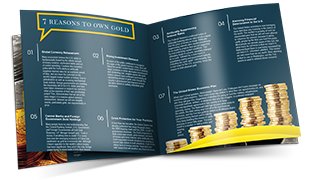 Learn everything you should know about investing in precious metals.
Request the Free Guide
The strength of gold this week chased some shorts from the market, and the movement left others attempting to sort out the conflicting market signals. The gold price history chart indicates that the yellow metal has broken through a six-year downtrend and closed at the highest level since the November U.S. elections. 1 It has now generated an enviable 10.5 percent increase on the year. The recent Fed interest rate increase had minimal impact on the price of gold and silver. Market participants question the FOMC's ability to follow its current plan for more increases if the economic indicators don't improve.
Economic and political uncertainties continue to shape the attitudes of many long-term investors, who view gold as a safe haven. Additionally, jewelers and industrial businesses see favorable buying opportunities. The downturn in gold production and supply is also gaining attention, further driving demand.
There is little economic or political news expected this week, other than a talk by the Fed Chairwoman Janet Yellen at the British Academy on Tuesday and the release of several minor economic reports.