The Federal Reserve and Bank of Japan meetings mid-week largely influenced this week's gold prices. Monday opened the week with lower gold prices as the central bank meetings hung in the air, and the dollar and world stock markets also opened lower. There was a G20 meeting over the weekend, which was attended by most major world economies, with the goal to use all available policy tools to float struggling world economic systems; the meeting was spurred by Britain's decision to leave the European Union. Many believe a recession in the U.K. is on the horizon.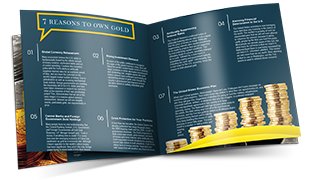 Learn everything you should know about investing in precious metals.
Request the Free Guide
Tuesday's gold price struggled as well, as the Yen lifted on expectations that the Bank of Japan would not introduce further economic stimulus. Gold was down 3% since last week.
The likelihood of a U.S. interest rate hike was pegged at 1 in 20, and indeed when the meeting results were published on Wednesday, gold got a boost to $1,340 per ounce, the highest level in two weeks. The FOMC decided now was not the right time to raise rates, and inflation can be expected to continue. The statement also said the rate hikes would occur slowly over time to accommodate a gradually recovering economy. A rate hike is not currently set for September.
The Bank of Japan's meeting Thursday and Friday revealed some measures to stimulate the economy, including double purchases of ETFs, but not anything more drastic. Oil prices were struggling this week, and ended the week with a 15% decline, the largest so far this year. Gold topped off the week around $1,350 per ounce, heading into the weekend on a strong note.