The yellow metal found new traction in the markets last week after opening at $1,209.73 on Monday. With periodic adjustments throughout the day the closing bid was up nearly five dollars at $1,214.15. Tuesday opened with gold prices at $1,211.05, but steady trading sent the price to $1,217.41 by the close. Aftermarket trading added three dollars to a Wednesday opening of $1,220.80, and the day closed at $1,219.13. The price of gold pulled back from a Thursday opening of $1,219.88 to a closing bid of 1,217.86. However, more afterhours buying marked a weekly high of $1,231.79 before a Friday opening price of just a few cents less at $1,231.43. Light trading throughout the day saw some profit taking and a final close of $1,228.75, up more than $17 for the week.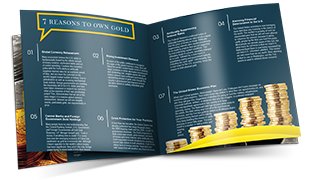 Learn everything you should know about investing in precious metals.
Request the Free Guide
The gold market seemed to be reacting to rising global tensions last week. The threat of political unrest the ongoing North Korean missile tests poses is sinking in for some traders, and the newest revelations from D.C in the Russian presidential campaign meddling case continue to raise concerns about the fate of the current administration.
Three other factors are impacting current buying for gold:
Demand for the metal for use in jewelry, especially in foreign markets, such as India. 1
Concern over the strength of the U.S. economy.
A weak dollar. Despite brief rallies, the dollar index continues to show a downward trend for the past several weeks.
However, the major market-mover during the week was based on the expectation that there will not be a FOMC rate hike. With the latest reports showing a decrease in consumer spending and a drop to 1.6 percent in the inflation rate, some observers see the Fed more concerned about maintaining the recovery than increasing the interest rate it charges banks for funds. 2
Two economic events will occur this week that could impact the direction of the market. Wednesday will see the release of the latest housing starts, and the recent disappointment in this number may feed growing concern about the economy's momentum. The European Central Bank will meet on monetary policy on Thursday, and the markets are not expecting the group to take any new actions on interest rates.