Gold prices opened the New Year by staying above $1,300 an ounce for the first week since mid-September, indicated the historical price of gold chart. After the market close for the holiday on Monday, Tuesday morning saw the price of gold open up nearly $10.00 at $1,312.14 and push further to $1,318.44 by the close. Gold prices pulled back slightly to $1,314.39 by the open on Wednesday before the market traded in a range throughout the day and then closed up at $1,314.90. Thursday's open pulled back just a bit to $1,313.25 then took off like a rocket to a peak for the day of $1,324.57; however, the day closed out at a more restrained $1,322.14. Friday morning saw the yellow metal slip to $1,317.59 then again rally to close at $1,319.59 for an increase of 1.3 percent on the week.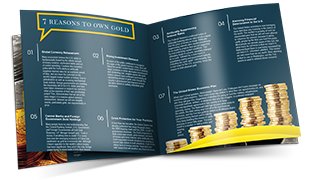 Learn everything you should know about investing in precious metals.
Request the Free Guide
The trading week started with the news of protests in Iran sparked by the government's handling of the economy, which quickly turned deadly as security forces used harsh methods to quell demonstrators. 1 The news set off concerns about geopolitical stability and a rally in the commodity complex led by oil. Oil prices settled at a 30-month high. 2 Not surprisingly, the news was viewed as bullish for gold given the metal's safe haven status.
On Thursday, news of a massive winter storm hitting the East Coast prompted further rallies in the commodities complex, which by Friday had resulted in a 60-fold increase in the price of natural gas. 3 4 All in all, it was a big week for commodities, as the sector capped off its "longest winning streak in history," highlighting the opportunity in gold and the rest of the precious metals. 5
Get a jump on investing in 2018 with our free report, Gold's Going Down?