Gold enjoyed a good week in light but solid buying, closing up nearly two percent over the five days. Starting at $1,174.14 on Monday, the gold spot price chart reported $1,197.46 on Friday—a slight dip from its seven-week high of $1,205.50 on Thursday.
Although breaking the psychologically important $1,200 an ounce threshold for the first time in three months, profit-taking sales seemed to be a source of pushback. Thus, Friday's rally was important to technical traders trying to evaluate the level of support for gold.
Many feel the week's trading was impacted by President-elect Trump's press conference on Wednesday. His denial of allegations that Russia is blackmailing him and outlining of plans to appoint his son to head of the Trump Organization to resolve potential conflicts of interest stoked fears over the economic and geopolitical implications of his presidency. Weakening confidence in the coming administration placed downward pressure on the dollar and—true to their inverse relationship—strengthened interest in safe haven assets. 1
Concerns over the Fed entered the precious metal markets again on Thursday after chairwoman Janet Yellen expressed conflicting views of the country's economic outlook. She indicated confidence in the short-term U.S. economic picture and saw no serious obstacles on the immediate horizon. However, she brought up concerns over wages and productivity in the future. 2 The latter economic forecast would, of course, push gold prices upward.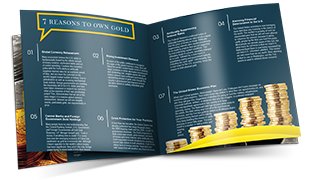 Learn everything you should know about investing in precious metals.
Request the Free Guide
Most analysts attribute the light trading to this week's presidential inauguration, underscoring the country's continued difficulty in sorting out conflicting signals over what the administration will mean to the markets in the near-term and the next few years.
Additional Sources
1 – http://www.marketwatch.com/story/gold-holds-at-a-six-week-best-as-markets-await-donald-trumps-press-conference-2017-01-11
2 – http://www.cnbc.com/2017/01/12/feds-yellen-says-shes-upbeat-about-short-term-economic-outlook.html