The week started with gold prices at $1,222.40, and steady buying added four dollars to that number by the time the markets closed on Monday. Analysts attributed U.S. and global uncertainty as a factor in the volume of trades. Although profit taking put some pressure on the price of gold early Tuesday, by the afternoon the yellow metal was selling for $1,230. The gold price chart reported a slight dip on Wednesday to $1,224.50 before prices climbed back up to $1,234.10 at Thursday's close. After-hours trading shot gold prices to $1,242.22 on Friday morning. Even strong profit taking only pulled the price of gold back to $1,234.88 at the close, giving the week a solid $12 boost and a three-week run of increases.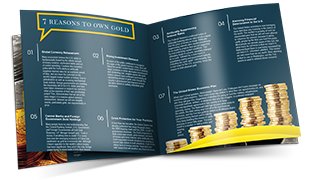 Learn everything you should know about investing in precious metals.
Request the Free Guide
With January's market gain of better than five percent, traders are getting comfortable with gold staying above the $1,200 mark. That said, the coming week will present some interesting inputs to the market, and the U.S. monetary policy is at the center of trader attention.
The FOMC will publish minutes this week that are expected to clear up some of Chairwoman Janet Yellen's comments earlier in the month. 1 According to TD strategist Bart Melek, there are mixed signals holding the market back. He stated, "The market will be looking to see if the committee was hawkish, relatively, or dovish. Any tones of dovishness, relative to current expectations, would help gold. Anything on the hawkish side, conversely, would probably force it a little bit lower."
Major economic news coming out this week about jobless claims and new home sales will also be scrutinized for any signs of a weakening in U.S. economic performance.
Foreign news is also a factor in the current gold prices. Upcoming elections in EU countries could have a major bearing on that organization's future, and more upheaval will be bullish for gold and other precious metals. The coming week could see significant movement on a daily basis based on the reaction of traders to the latest news on a number of these and other fronts.