Gold had an excellent week, as indicated by the historical price of gold chart. Trading on Monday opened up almost $3.00 on the previous week's close, and this was the low point of the week. Prices shot up quickly to breach the $1,263 level by 10:00 A.M. in New York, and then cooled slightly to close at $1,261.49 for the day. Tuesday opened up at $1,263.55 and dipped slightly before closing at $1,262.34. The bull run continued on Wednesday, with the yellow metal opening up at $1,265.90, trading to $1,266.76, and then closing at $1,266.41. Thursday opened off slightly at $1,264.34, then pushed higher to $1,267.80. But Friday was when things really took off, opening up at $1,268.50 and then rocketing to close the week out at $1,274.16, almost $20 up for the week.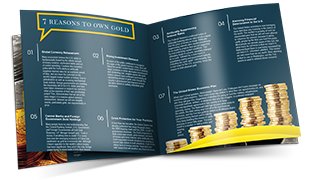 Learn everything you should know about investing in precious metals.
Request the Free Guide
The week's news opened with a reaction to the publication of the full text of the final Senate tax plan showing a permanent cut in corporate taxes (35 percent to 21 percent), a cut in individual rates that expires in 2026, and a massive windfall for real estate investors. 1 While there were still some procedural clearances required in both houses, the government began preparations for the president's signature by the end of the week.
It seems however that the passage of the bill caused investors to take a long look in the mirror and realize that it wasn't the panacea they had been hoping for. The markets quickly began to fret about a potential government shutdown at the end of the week, which definitely contributed to a flight to quality for the precious complex. 2 After the usual panic, a stopgap spending bill was passed to keep the lights on in the federal government, kicking the economic and political can down the road once again.
Bitcoin's supposed challenge to gold as a source of uncorrelated alternative investment took a further hit this week as Andrew Left, the major short seller who founded Citron Research, literally called out Bitcoin investors as 'an incredibly naïve investor base.' 3 Citron is making enormous sums of money betting against something called the Bitcoin Investment Trust, a publicly traded vehicle which inexplicably trades at double the value of the Bitcoin it holds. Mr. Left tweeted 'Who cares where bitcoin (sic) goes…thank you for the 70% profit.' 4