The week started with precious metals trading prices reflecting market anticipation of the Wednesday FOMC meeting and an expected interest rate hike. Early selling pressure had Monday gold at a 10-month low in overnight trading, with February Comex gold at $1,160.50. 1
Gold prices were at $1,163.61 when a quarter-point interest rate increase was announced, and it immediately adjusted to $1,124.36 as the dollar rose on global markets. 2 Yet, by the end of trading on Friday, a corrective bounce delivered $5.50 an ounce to the February Comex, closing at $1,135.40. The gold spot price settled in at $1,134.96. Short covering drove some of the price recovery for gold, as the pullback was not as big as some had feared with an interest rate hike.
The solid base of the pullback indicates movement to use the lower price as a buying opportunity and to average down the price in existing portfolios. 3
The normal year-end trading is showing increased volatility. At the same time, gold prices reflect the market's belief that the Trump rally in the equities markets is running out of steam. With the dollar stalling in Friday trading, attention is returning to solid economic data instead of speculation over what the new Trump administration means to the economy.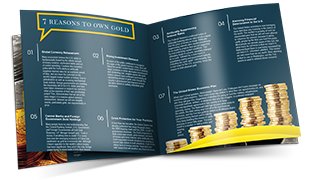 Learn everything you should know about investing in precious metals.
Request the Free Guide
Those global indicators remind long-term investors of why gold has increased so much this year. In spite of the pullback created by the election, China remains a big concern. The country's central bank found it necessary to force more than 600 billion yuan ($86 billion) into its economy late in the week to stabilize stock and bond markets.
In addition to such troubling indicators from China, the EU has its share of growing problems, and there are concerns over how national economies will respond to tightening monetary policies from a number of central banks. While the Fed predicted three additional hikes in 2017, many believe that is too optimistic. 4
On the bullish side of the precious metals equation, there are growing signs of increased inflation on a global basis, and that always moves investment to gold and other hard assets.
The key U.S. economic news expected in the coming week is new residential construction. Markets will also be watching the trends on the dollar after last week's stall.
Additional Sources
1 – http://www.wsj.com/articles/gold-edges-up-ahead-of-the-fed-1481714338
2 – http://www.cnbc.com/2016/12/14/fed-surprises-with-three-rate-hikes-next-year–and-could-need-more.html
3 – http://www.fool.com/investing/2016/12/15/the-main-reason-to-buy-gold-and-silver-stocks-has.aspx
4 – https://www.bullionvault.com/gold-news/gold-fed-091620162