The price of gold opened the week largely unchanged from last week's two-week low as the market waited on a sign from the Federal Reserve later in the week at the annual symposium. Gold was also stagnant because the dog days of summer hold back any large price movements, with American investors on vacation. Momentum usually picks up after the Labor Day holiday.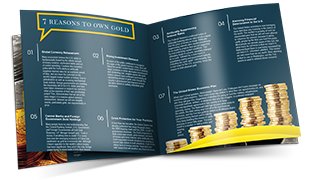 Learn everything you should know about investing in precious metals.
Request the Free Guide
Data on Tuesday showed a surge in single-family home purchases in July, a positive sign for the economy. The Bank of Japan and economic growth in France are looking positive, as Switzerland's gold exports to the United Kingdom hit a four-year high. World stock markets have been rallying.
Gold slipped out of its narrow range Wednesday, dropping to a one-month low as mining company Glencore Plc announced plans to increase output by 7% against the previous year. Crude oil was lower. Anticipation in the market reigned as traders awaited a speech by Janet Yellen scheduled for Friday. The marketplace was prepared for news of further interest rate hikes.
Oil prices made a jump Thursday as Saudi Arabia endorsed a freeze on output. Relatedly, Iran and Iraq engaged in similar discussions. Expectations that Yellen would raise rates stood at 57%. Gold prices hit another four-week low.
On Friday, Yellen's much-awaited speech indicated that the case for raising interest rates was becoming much stronger, but the Fed will still be waiting for clear economic data. The gold price rallied immediately, and then fell against the rising dollar.