Monday's gold market opened favorably on outside factors, including a lower dollar index, weaker global stock markets, and short-covering in the futures market. The gold price consolidated from last week's losses. Global political events that are long-term positive for gold include the possibility of Saudi Arabia moving away from dollar-denominated oil trade and potentially lower Yen rates in Japan, both of which could cause unrest in the functioning of world markets.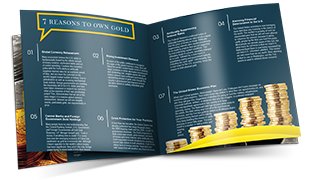 Learn everything you should know about investing in precious metals.
Request the Free Guide
Tuesday's outside markets continued to push gold higher, featuring a lower dollar and higher crude oil (these two factors remained influential throughout the week). Oil prices were hovering around a four-and-a-half-month high. Tuesday began a two-day long Federal Reserve meeting, in which spectators did not expect any monetary policy changes.
Wednesday's gold price edged higher on continued outside market influences, as well as a string of U.S. economic data that was released concerning durable goods orders, the home price index, and consumer confidence, which were all lower. The Fed statement was as expected, with no interest rate hike and mostly repeated sentiments to monitor the global markets carefully.
After an immediate dip in gold prices Wednesday afternoon following the Fed statement, the market responded positively to the news and gold price gains were featured throughout Thursday, with gold prices reaching an 11-week high on Friday, above $1,290 per ounce. Market analysts seem to be generally in alignment that gold has already reached its bottom and will continue to rise through the rest of the year.