Economic and political uncertainty at home and abroad fueled heavy gold trading last week. Gold prices were $1,288.60 on Monday morning and quickly hit what would be the week's high of $1,291.74 an ounce. Tuesday and Wednesday were marked by a pullback in trading as the market awaited more economic news, with the spot gold price chart reporting closes of $1,289.19 and $1,279.67 respectively. Thursday opened up slightly higher at $1,281.94. Amid news of a terrorist attack in France the night prior, Friday saw an uptick in trading, closing the day on an upward trend at $1,282.45.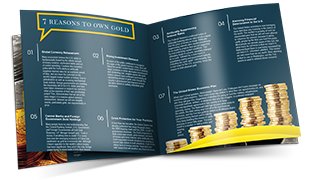 Learn everything you should know about investing in precious metals.
Request the Free Guide
The strong start for the week was largely due to two factors: a markedly lower U.S. dollar index and growing global political concerns. The latter point includes both the ongoing issues between the U.S. and Russia and North Korea and the impending election in France. Those concerns came into major play for Friday's trading after the latest terrorist attack in France.
The election in France will dominate much of the news influencing markets this week. Reactions will start on Monday, and the results will affect markets until the second runoff on May 7.
A much-anticipated piece of economic news will be the administration announcing its tax reform plan on Wednesday. Analysts and traders will be watching closely to gauge the short- and long-term expectations for the impact of any tax changes on the U.S. economy and gold prices. Another piece of the economic picture will be defined Friday with the advance reading of the U.S. GDP Q1 data.