"Central banks…have been buying physical gold for years. They've never owned so much gold as they do right now."

— Precious Metals Advisor Tim Murphy
The world economy continues to experience turbulence as markets stumble. Inflation is still raging with no signs of slowing down, confidence in the US dollar is declining both domestically and abroad, and the conflict in Ukraine is causing unprecedented disruptions in every sector.
The collective ramifications from these issues are driving investors to safe havens such as gold and silver. Watch the video to see what Precious Metals Advisors Joe Elkjer and Tim Murphy have to say about the growing demand for gold and silver and how it's going to impact the availability of precious metals.
Bigger buyers are grabbing more physical gold and silver
Demand for physical gold and silver is hitting new records as individuals, businesses, and governments look to protect their assets from inflation. Retail buyers have been steadily increasing their precious metals holdings over the past few years in anticipation of a major economic meltdown like we're seeing today. But these investors aren't alone.
Major corporations have been quietly diversifying their asset allocation too. In August 2021, tech giant Palantir bought $50 million worth of gold to hedge against a potential Black Swan event. Just a few weeks ago, AMC announced a $27.9 million investment in Nevada-based Hycroft Mining.
The increased demand for physical gold and silver isn't just happening at the investor level. Central banks in countries across the world are ramping up their precious metals buying. International heavyweights such as China and India have been buying gold for years, but smaller countries are starting to follow suit including Hungary, Thailand, Turkey, and Poland. Currently, central banks own more gold and silver than ever before.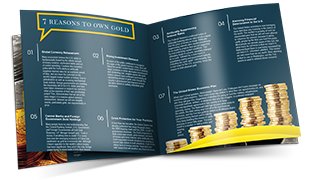 Learn How to Avoid Costly Rookie Mistakes & Invest in Gold Like a Pro!
Get Free Gold Investor Guide
A shortage of physical gold and silver looms over the market
As demand for physical gold and silver notches new highs, the number of available products quickly diminishes. Wholesalers and refineries are already reporting shortages of precious metals. Scottsdale Bullion & Coin is even having a difficult time getting its hands on certain physical silver items.
Demand for physical gold and silver is skyrocketing across the globe. Retail investors, major corporations, and central banks are all seeking protection from the current and anticipated economic uncertainty. This growing demand is causing a shortage of precious metals that is only going to get worse as more and more investors seek out safe-haven assets.
Don't wait to buy your gold — Buy your gold and wait.
With ongoing inflation, worsening turmoil, and massive purchases from governments, this shortage is going to get worse before it gets better. Russia has even resumed gold investments after a two-year hiatus. It's much better to buy gold and silver and wait rather than waiting to buy gold. Don't get stuck investing after gold and silver prices hit new records and scarcity becomes the norm.
Although bullion coins and bars are some of the most popular forms of physical gold and silver to buy, there are various alternatives that may provide investors with better returns and offer the greatest privacy. Learn more about investing in different kinds of precious metals products by downloading our free gold and silver report.