Now, is NOT the time to ignore the economy's performance. Your financial security is on the line, and the situation is only getting worse. Watch this week's The Gold Spot to hear Senior Precious Metals Advisor Steve Rand & Precious Metals Advisor John Karow explain why this is a dangerous time of year for investors, what's threatening the economy, and how you can protect your wealth.
The Illusion of Economic Stability
Every summer, there's a tendency for investors to get distracted from the economy. With kids home from school, beautiful weather, and exciting vacations, there are plenty of things to keep investors occupied. However, there's a "real danger" in taking your sights off of the economy, markets, and your financial situation.
Following the debt ceiling fiasco, Americans are eager to breathe a collective sigh of relief under the false assumption that the economy's fundamental issues have been solved. In reality, our political elites simply kicked the can further down the road without addressing the economy's existential threats.
"[P]eople think the problems have been solved. They think the economy is now going to stabilize when really all Congress did was open the checkbook and give them the freedom to spend more money."

– Precious Metals Advisor John Karow
The harsh truth is that the economy is still incredibly unstable. Smart money investors are buckling up for the foreseeable future and not letting summer fever distract from the growing economic pressures.
Economic Challenges Intensify
The economy isn't improving anywhere near the rate at which our financial elites had promised. From the banking crisis and de-dollarization to inflation and stock market performance, the economy is getting hit from every angle. All our political leaders do is make more empty promises while exercising the same practices that put us in this situation in the first place.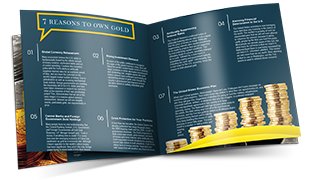 Learn How to Avoid Costly Rookie Mistakes & Invest in Gold Like a Pro!
Get Free Gold Investor Guide
More Bank Consolidation
Just last month, Janet Yellen testified to Congress that the US banking system was "sound". It didn't take more than a month for the Treasury Secretary to backtrack. Following a string of regional bank failures, she had to contradict earlier statements by admitting that more bank consolidation would be necessary. It's no wonder bank deposits are reaching new lows.
De-Dollarization Heats Up
A complex array of economic, geopolitical, and historic factors are encouraging the world to accelerate their shift away from the US dollar. A recent report by JP Morgan strategists highlighted a significant drop in USD demand. Central bank FX reserves of the dollar stood at a record low of 58% as the Yuan's activity increases.
Dow vs Gold in 2023
So far this year, the DOW is up a measly 1.3%1. This dismal growth is indicative of the pervasive uncertainty and instability within the market. In contrast, gold has notched an 8.2% year-to-date increase. It's clear that investors prefer hard assets over fiat-backed investments.
Stubborn Inflation Spurs Rate Hikes
Investor hopes of a pause on rate hikes were dashed when the Fed announced a prolonged interest rate strategy. At this point, high rates of inflation are the norm in markets. Inflation isn't going anywhere fast which means the cost of living will increase and buying power will sink.
Gold Demand May Reach New High (Again)
It's no secret that central banks are buying up record amounts of gold, but the sheer scale of demand exceeds expectations. Last year, foreign demand for gold reached its highest levels since 1957. All indicators suggest gold buying in 2023 will overshadow that of 2022.
China, one of the most active buyers, has increased its gold holdings for the seventh month in a row. BlackRock, the world's largest asset manager, recently advised investors to consider a strategic allocation to gold.
The bullish combination of booming demand and a faltering economy will create strong tailwinds for gold prices. Many experts expect a strong gold performance in 2023 and beyond. Just yesterday, WisdomTree predicted a record-breaking $2,285 gold price in Q1 of 20242.
Learn How to Protect Your Wealth
Avoid the trap of complacency this summer by staying in tune with the economy. You and your family's financial well-being depends on it! We're seeing a confluence of severe economic threats that are only getting worse over time.
If you're interested in learning more about how gold and silver can help shield your wealth from incompetent fiscal policies, spiraling inflation, and a weakening dollar, request your FREE COPY of our Precious Metals Investment Guide today!
Honoring D-Day
Tuesday, June 6th, 2023, marked the 79th anniversary of the D-Day invasion, which was a decisive victory in the eventual defeat of the Axis powers. We want to give a heartfelt thank you to those who served in the war and to the people with relatives who served. Scottsdale Bullion & Coin's Founder, Eric Sepanek, traveled to the Pointe du Hoc Ranger Monument in Normandy, France, to pay his respects and tour the historic location.