The early 2015 gold rally has run into a slight drop to start this last week of January, but according to experts, this was to be expected. Not only are the February options expiring tomorrow (options expire the 3rd business day before month end), but the Federal Reserve is starting a 2-day meeting Wednesday and investors are usually cautious before hearing the results.
In an interview this week with King World News (KWN) 1, James Turk, an author and long-time gold investor, said, "These events in the past have generally been met with downside price pressure on the precious metals as central planners and gold bears gang up to try driving the gold price lower. And with gold rising $160 and silver $3.50 from their November lows, some traders may see this week as an opportunity to take some profits before option expiry, or just in case the [Federal Reserve] makes some surprise announcement."
Since this drop was expected, Mr. Turk does not want investors to not lose sight of the big picture and "the potential offered by precious metals." To illustrate this point, Mr. Turk provided the following chart which compares today's gold market with that of the market in the 1970's.
According to Mr. Turk, "From the late 1960s to January 1980 gold rose from $35 to $850 at its peak. The green uptrend line marks gold's ascent back then, but note that this major bull market had two distinct price moves, marked by the two red ovals. The first peak occurred in 1974 at $200, after which there was a 2 ½ year correction that brought gold all the way back to $100 and its green uptrend line. Then from August 1976 gold began its remarkable multi-year rise. Not how gold never really looked back. It kept climbing without any major correction."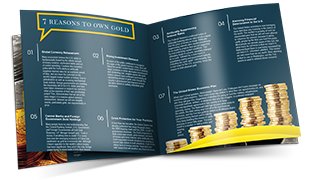 Learn everything you should know about investing in precious metals.
Request the Free Guide
Turk attributes this sudden rise to the Federal Reserve's money printing that started in the 1960s and continued through the 1970s. Similar money printing programs are happening today in order to spur the economy after the 2008 market collapse, and just like back then, gold prices have risen.
Mr. Turk believes that last year was the same type of correction that occurred in the late 1970s that then led to a meteoric spike in gold prices.
"I believe it will repeat," Turk tells KWN, "and that the above chart provides an insightful roadmap into what we can expect for gold. It looks like the second leg of gold's 21st century bull market began from the low price reached this past November."
Mr. Turk cautions that history doesn't always repeat itself, but in this case the conditions (federal money printing) are extremely similar.
"What central banks are doing is turning government debt into currency, which even a cursory reading of monetary history makes clear is a recipe for disaster and the primary reason the gold price will soar."
Additional Sources
1 – http://kingworldnews.com/gold-price-repeat-one-greatest-upside-moves-history/http:/kingworldnews.com/gold-price-repeat-one-greatest-upside-moves-history/