"Gold is up sharply. It's telling us…inflation is here to stay."

— Precious Metals Advisor Tim Murphy
The spot gold price made an impressive jump yesterday, drawing a lot of attention from investors. This significant move upward is a healthy sign for precious metals but bad news for the overall economy which isn't showing any signs of recovery. There's been no break from warnings of hyperinflation, the devaluation of the dollar, and the threat of a market crash.
Watch the video to see what Precious Metals Advisors Joe Elkjer & Tim Murphy are saying about the recent pop in gold prices, what that signals for the economy, and how investors should move forward.
Gold is Breaking Out
Gold prices made headlines yesterday surpassing the $1,900/oz mark, marking a massive surge in value. The spot price of gold hasn't been this high since June of 2020 as more people dump their dollar-tethered assets in favor of precious metals. With poor economic conditions only worsening, this jump might just be the beginning of a larger value increase. Experts are predicting gold prices to climb even higher this year.
Inflation is Here to Stay
This jump comes amidst a gloomy economic backdrop as inflation persists, the dollar loses value, and tensions in eastern Europe continue. To make matters worse, the Fed held its first secret meeting in over a decade, sparking even more uncertainty and fear among already wary investors.
The Fed is clearly concerned inflation will only worsen without immediate action in the form of rate hikes, the first of which is already scheduled for June. However, as it shared after the secret meeting, the Fed is also worried that increasing interest rates too quickly will crush the markets. It's a lose-lose situation that has been fueling an increased interest in gold and silver.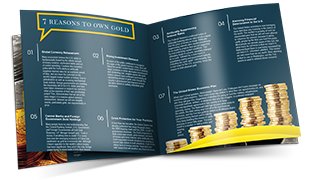 Learn everything you should know about investing in precious metals.
Request the Free Guide
Gold is Primed for Growth
Right now, the Fed has no good choice moving forward. Inaction won't do anything to mend a broken economy, but rate hikes and other proactive measures will cause pain in the short term. These precarious market conditions are already causing gold and silver prices to increase, as is evident from yesterday's jump.
As the economy worsens, people begin looking for alternative assets to protect their wealth. With over a century of success as an inflation hedge, gold and other precious metals are seeing a boom in interest from wise investors. Gold is primed for big moves in the future, so now is the time to take action.
👉 Suggested Reading: Is Gold a Good Investment in 2022?
Don't Wait to Buy Gold. Buy Gold and Wait
It's important to keep in mind that gold prices don't always respond immediately to poor economic conditions. Usually, there's a gap in between the downward spiral of the market and the rising price of gold. Nobody can predict precisely when this jump will happen. That's why you should buy gold and wait instead of waiting to buy gold. Learn more about protecting your wealth with precious metals by downloading our Free Gold & Silver Investment Guide.