Gold prices have yet to recover after dipping below $1,300 an ounce over a week ago. Thursday did see some early gains, but they were erased by an afternoon drop, finishing the day at $1,238.50 an ounce.
The Wall Street Journal reported that the early rise in gold prices was mainly due to a jobs report that was released showing an increase in jobless claims. The claims number was the highest since June, and, according to the Journal, "well above the consensus forecast of economists."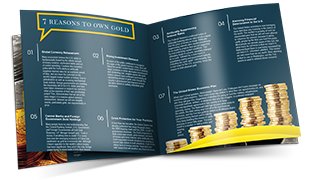 Learn everything you should know about investing in precious metals.
Request the Free Guide
The recent volatility has been caused by uneasiness about the geopolitical situation in Russia and Ukraine and some uncertainty about the strength of the dollar. Over the past week, these fears have subsided somewhat leading to a dip in gold prices. Gold is typically purchased as a hedge against economic and political issues and will drop when investor confidence in the stock market is strong.
"Risk sentiment seems to have parted ways with the familiars of commodities," TD Securities said in a note obtained by The Wall Street Journal.
In addition to easing global tensions and a strengthening dollar, gold is also being hurt by fears that an interest rate hike is on the horizon. According to Zeebiz, "the dollar index was trading near a 14-month peak on Thursday as speculation has increased in recent days that the U.S. Federal Reserve could soon raise rates. Higher interest rates would dent demand for non-interest yielding assets such as gold."
Despite the fear of rising interest rates and a strong dollar, there is always the chance of geopolitical issues flaring up once again. While the former may prevent gold prices from skyrocketing, the latter could certainly push the yellow metal back passed the $1,300 an ounce threshold.