Metals Focus, an independent precious metals research house, has just released its much-anticipated Gold Focus 2017 report. The organization's analysis of market trends and supply and demand suggests that investing in gold is a good decision in 2017, as gold bullion prices could hit at least $1,475 per ounce by year's end. 1
Pricing Factors
While the factors regularly influencing the price of gold remain in play, the report focuses on several that are expected to be dominant over the near term:
Of special interest to the analysts who prepared the report was the Q1 performance of gold despite Federal Reserve interest rate increases and FOMC comments indicating more are expected. The fact that this was priced into gold before the announcement and prices rose in subsequent trading is seen as a bullish indicator of the fundamental strength of the yellow metal.
Gold Performance in 2016
The Gold Focus 2017 report also addresses the rather interesting year of trading that saw gold prices end with a solid gain of nearly 10 percent. While the early impact of Brexit was a significant market influencer, the surprising U.S. election results created a unique situation during Q4 of the year. In fact, the current report was delayed while analysts attempted to determine the impact of that historic event leading into 2017. 2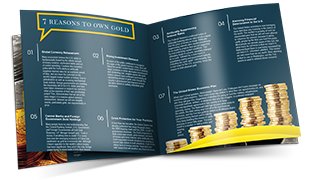 Learn everything you should know about investing in precious metals.
Request the Free Guide
Overall, there were a number of factors—including worldwide economic and political risks—that provided substantial underpinning to gold's strength in 2016. It is important to remember the net gain for the year occurred even in the face of end-of-year profit taking and an overvalued equities market. Additional strength in the market comes from a growing awareness of an imbalance in the supply and demand picture as production continues to hit record lows.
Gold Demand in 2017
Metals Focus analysts see the global economic picture as bullish for gold demand and prices in 2017. While they note that some forecasters have much more aggressive views, the Gold Focus 2017 report pegs $1,475 as a reasoned price point for the year's high. The Director of Metals Focus, Nikos Kavalis, notes, "We believe that negative real rates, plus several tail risks, should yield further gains for gold as institutional investor interest in the metal grows." 3
This report merely validates the underlying confidence from long-term investors who have used dips in the price of gold to continually average down the cost of their holdings.