"Gold is [the] anchor to an entire portfolio…The bigger the ship, the bigger the anchor. The bigger the portfolio…the more gold you need."

— Richard Otto, Scottsdale Bullion & Coin Precious Metals Advisor
Most of us have heard that diversification is the key to a strong investment portfolio. With all the different options out there—stocks, bonds, mutual funds, gold, cash, cryptocurrency—what is the best way to both grow and protect your wealth?
How much gold should you have in a well-diversified investment portfolio?
Scottsdale Bullion & Coin Adviser Richard Otto joins Steve Rand on The Gold Spot with a story from one of his regular precious metals clients. This client's father was in the navy, and his investment advice was, "The bigger the ship, the bigger the anchor." In other words, "The bigger your portfolio, the more gold you need."
In the words of this Navy Seal, gold is the anchor that sturdies the ship of any portfolio. As your wealth, your investments, or your retirement portfolio grows, so too should your volume of gold. Gold is safe, secure, and low-risk.
Precious metals maintain their value throughout time because of their inherent social value. Even as other investments may veer and sway in the wind of economic adjustments, gold will be there to hold down the foundation.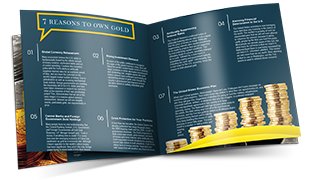 Learn How to Avoid Costly Rookie Mistakes & Invest in Gold Like a Pro!
Get Free Gold Investor Guide
Following her father's wisdom, this client buys gold every 3-6 months.
What will be the right amount of gold for your situation? Read our free precious metals guide to start thinking about how big your "anchor" should be.
Call us at (888) 812-9892 to discuss your options. We are more than happy to help our clients "secure their ship" with the optimal percentage of gold for a promising future.