"You should think about who you trust with your money [and] assets."

– Precious Metals Advisor Todd Graf
The fledgling cryptocurrency industry suffered its biggest blow so far last week with the collapse of the FTX exchange platform. Shockwaves are being felt across all financial markets as investors rethink their asset security and wealth management.
Watch this week's Gold Spot to hear SBC Advisors Damian White & Todd Graf break down the ramifications of this massive collapse, what investors can learn, and where your money is safest.
The Largest Bankruptcy in History
Many people's first exposure to FTX was the sound of the cryptocurrency exchange's death knell. The news over the past week has been dominated by the tragic downfall of the crypto market's once-beloved Sam Bankman-Fried and his Bahamas-based crypto exchange platform. In just 36 hours, FTX plummeted from a $32 billion dollar valuation to zero.
Despite only being a few years old, FTX had become a premier crypto platform where investors could exchange USD and other currencies for crypto and vice-versa. A large portion of users kept their cryptocurrencies on the FTX platform even with the lack of regulatory oversight for which the crypto space has been derided.
While users thought their money was safe on the platform, FTX founders were extracting user assets to fund luxury real estate in the Bahamas, political funding for the democrats to the tune of $40 million, and other reckless spending habits. Users quickly found out their hard-earned money had been completely misused and mishandled.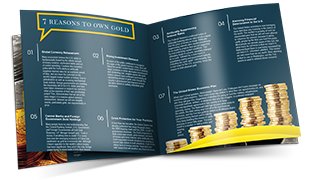 Learn How to Avoid Costly Rookie Mistakes & Invest in Gold Like a Pro!
Get Free Gold Investor Guide
What's the Safest Form of Investment?
The beleaguered crypto market has investors reconsidering the security of their assets and searching for safer storage of wealth. The complete fallout of FTX and other crypto-based crashes have highlighted the severity of entrusting your wealth to unfaithful custodians. Investors need to be judicious about where they invest their money, especially in such a volatile market.
Avoiding Counterparty Risk
Risk management is a crucial factor to consider when deciding where to invest, what assets to choose, and which custodians to trust. Counterparty risk, an important investing concept, is defined as the probability one party in an investment agreement won't live up to their obligations.
Investors should be highly circumspect of investments that require third-party management of their assets when there's no proper regulatory oversight, the company is located offshore, and the entire investing process is opaque. These are precisely the red flags that FTX was flying high which didn't stop investor zeal.
FTX Contagion is Spreading
During its short-lived ascent, FTX became one of the most popular and influential trading platforms in the market. This leading position encouraged many cryptocurrency projects to stake some of their assets in FTX. The reverberations of the crypto giant's fall are being felt throughout the market with many projects seeing shaky finances.
Retail investors weren't the only victims of the latest cryptocurrency fiasco. For example, Sequoia Capital, a major venture capitalist firm, apologized to investors for backing FTX despite the obvious risks. Nobody knows for sure how far the fallout will reach, but investors are certainly growing wearier.
Physical Gold & Silver Offer a Safe Haven
Time and time again, physical precious metals prove their inherent value by providing a hedge against inflation and unscrupulous custodians. When you own physical gold and silver in the form of gold and silver coins, gold bars, and silver bars, you don't have to worry about somebody mishandling your assets because you maintain complete control.
"Physical precious metals…are the safest way to invest right now."

– Precious Metals Advisor Todd Graf
Physical precious metals don't expose investors to any counterparty risk as there's no third party involved.
If you're interested in learning more about the merits of physical precious metal investments, request your FREE COPY of our popular Gold & Silver Investment Guide.