2023 has been a grim year for the economy, and the outlook is growing dimmer. With a conflict erupting in the Middle East, the US is now stuck funding two wars that don't have clear end dates. Meanwhile, the domestic economy is facing its own existential threats.
Watch this week's The Gold Spot to hear Scottsdale Bullion & Coin Sr. Advisor Steve Rand and Advisor Brian Conneely explain why the government has lost trust, how these events mirror the past, and how investors can secure their portfolios from an uncertain future.
No Faith in the Government
The Biden administration has done everything in its power to extinguish America's already dwindling faith in the government.
On the domestic front, US debt has surpassed $33 trillion, inflation runs rampant, the southern border is wide open, and the banking system remains on the verge of collapse. Arguably, the global situation is even worse. China is inching closer to Taiwan, Russia is still trying to topple Ukraine, and – most recently – Hamas launched a full-scale assault on Israel.
We're getting calls from clients who swear it feels like the world is burning down around them. At the same time, the Biden admin is dead set on reassuring the American people that everything is going to be a-okay.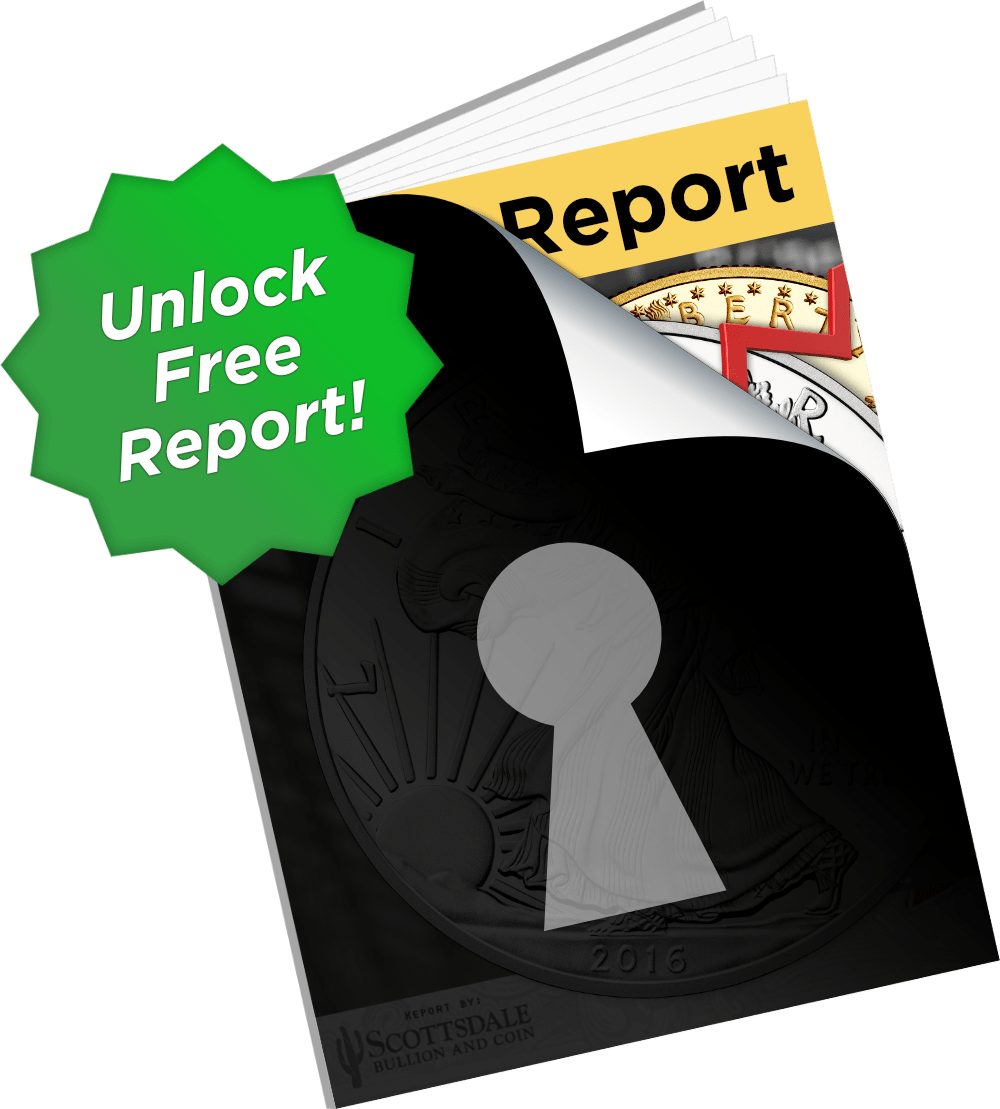 Get more out of your gold & silver investments.
Learn how…
Unlock Free Report
There's no trust in the government right now.

–
Investors have good reason to be skeptical of this administration's ability to offer protection from both domestic and international tensions. It's becoming abundantly clear that the American people are on their own to safeguard their livelihood from these mounting pressures.
Commodities on the Way Up
Investors can expect commodity prices to rise as traditional markets shrink due to increasing geopolitical tensions and economic uncertainty. Wheat, corn, soybeans, and other foundational agricultural products are expected to jump in price.
On top of that, energy prices are projected to soar, with many experts warning of  $100/barrel oil. Inevitably, these spikes will lead to higher living costs for Americans who are already under pressure from a weakening dollar and high inflation.
The silver lining for investors is that gold and silver demand is also expected to strengthen. In fact, we're already seeing gold and silver spot prices push out of the temporary slump they were in over the past few months.
Higher Gold Prices Incoming
Recent events are eerily reminiscent of the 1970s. The US economy was reeling from stagflation, Russia was in the middle of invading Afghanistan, Israel was being attacked during the Yom Kippur War, and Iran was taking US hostages.
"History never repeats itself, but it does often rhyme." – Mark Twain
Understanding what followed during this period can give investors some cues today.
In 1977, at the height of these tensions, gold was valued at $150 an ounce. Just a few years later, in 1980, prices had surged to $850 an ounce, marking one of the biggest jumps in the precious metal's history. Nobody can say exactly how high prices will go, but it's clear that gold prices tend to rise following bouts of extreme pressure, as we are currently experiencing.
The Window Is Closing on a Great Buying Opportunity
The performance of gold and silver is bullish in the short and long term. However, that doesn't mean investors have the luxury of waiting around. It's impossible to time the market perfectly, so smart investors are getting in now.
A top J.P. Morgan strategist is calling for investors to loosen their grip on stocks and increase their gold holdings due to rising pressures. Central banks have already been buying up record amounts of gold in anticipation of more pain ahead.
Secure Your Portfolio Now!
If 2023 has proven anything, it's that things can always get worse. With the American economy on the ropes, conflicts raging across the globe, and a feckless government at the helm, now is the time to secure your portfolio.
For centuries, precious metals have proven to be a reliable hedge against inflation. Gold prices are already showing large upward swings and smaller pullbacks following the outbreak of the Israel-Hamas war. Do not wait until it's too late.
We've had [a] little bit of a reprieve in the gold and silver prices. Take advantage of it while you still can.

–
Request our FREE Precious Metals Investment Guide to learn how gold and silver can safeguard your wealth. You can also contact a dedicated Precious Metals Advisor directly by calling toll-free at 1-888-812-9892 or using our live chat function.