When asked if inflation will just be 'transitory', didn't the Fed say that in the '70s, too?

–Sam Zell, billionaire investor
Very few people are actually bullish gold. People have not bought into this yet. If you want to make money you have to be ahead of the crowd. The crowd will ultimately get in there, but it will be at far higher levels. That is the way the markets always work.

–Alasdair Macleod/King World News
Several years prior, Ray Dalio of Bridgewater Associates, was one of several billionaire fund managers/investors urging the public to own gold. With gold trading in the range of $1,200oz – $1,350 oz, Dalio's strong recommendation to purchase gold was reported multiple times in these weekly emails. 
Arguably the second most successful and well- known Wall St personality behind Warren Buffet, Dalio's past concerns about the massive debt and direction of the US dollar are so far well founded.
Now, another high-profile billionaire investor is recommending gold to the public, as reported last week in Bloomberg News the headline read:
Sam Zell Buys Gold With Inflation 'Reminiscent of the '70s'
Billionaire investor Sam Zell is seeing inflation everywhere and has bought gold as a hedge — something he says he used to knock others for doing.  "Obviously one of the natural reactions is to buy gold," he said in a Bloomberg Television interview. "It feels very funny because I've spent my career talking about why would you want to own gold? It has no income, it costs to store. And yet, when you see the debasement of the currency, you say, what am I going to hold on to?"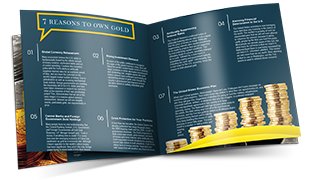 Learn How to Avoid Costly Rookie Mistakes & Invest in Gold Like a Pro!
Get Free Gold Investor Guide
Zell, 79, said he's concerned not only about the U.S. dollar but other countries printing money as well, and questioned whether inflation will be transitory, as Federal Reserve Chairman Jerome Powell indicated last week. "Oh boy, we're seeing it all over the place," Zell said of inflation. "You read about lumber prices, but we're seeing it in all of our businesses. The obvious bottlenecks in the supply chain arena are pushing up prices. It's very reminiscent of the '70s."
Then, Alasdair Macleod via King World News, took it one step further, "As a consequence of current events, the failure of fiat currencies is increasingly assured. Unlike the runaway inflation in the 1970's, debt levels are now so high and state intervention in markets so great that hiking interest rates in the manner deployed by Paul Volcker would simply prick the everything bubble. Debt defaults would be overwhelming. Nevertheless, as the purchasing power of fiat currencies continues to slide, higher and higher interest rates become inevitable. A fiat currency going to zero today could take less time, given instantaneous modern communications. In that event, anyone who does not plan to get hold of some physical gold and silver with a high degree of urgency could end up sinking with nothing but valueless fiat currencies."  
As shown in prior emails, the 15 Year Gold chart below reveals a classic "Cup and Handle" formation.
This technical formation is MOST powerful and the "official breakout" occurs when spot gold trades above $1850oz and holds for several days. When/if gold breaks out, the next price objective is in the range of $2,700 – $3,000oz. 
The second chart is a 10 year history of the XAU,  the Philadelphia Gold and Silver Miner's Index. The XAU index has a reputation for "leading" the actual gold and silver prices. And as you can see, the index is already starting to break out of a formation very similar to the 15 Year Gold chart.
Fundamentally and technically, all systems are a GO for higher gold and silver. Demand is strong worldwide and supplies are getting tighter by the week. Considering the fact that the exchange gold and silver prices are artificially low AND stocks and bonds are extremely overbought by most historical standards/valuations, owning physical gold and silver just makes sense. If you missed out on Ray Dalio's advise several years ago, maybe now is a good time to act on Sam Zell's recommendation?